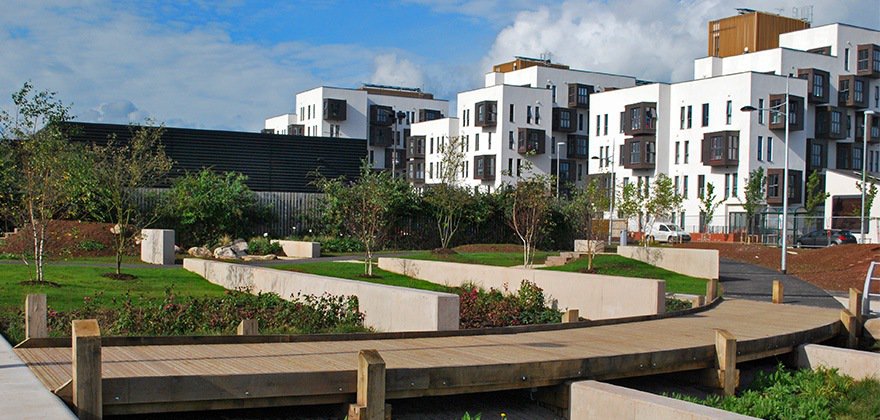 12/12/2017
A recent report¹ has highlighted the increasing costs to developers for S106 and affordable housing. £2.1billion was provided to local authorities by developers through S106 payments and although this is a welcome reduction from the previous year, it is a significant increase from the £1.7billion paid five years ago.
The housing shortage has been well documented with Governments at all levels in the UK setting stringent targets for the provision of new affordable housing. There are multiple policies and funds available to Governments to stimulate the dwellings required throughout the UK some of which were highlighted by the Joseph Rowntree Foundation³ including the release of public sector land at discounted values, penalising developers for undeveloped planning consents, providing grants to local authorities and other social housing providers rather than loans for direct build and making private sector rents more affordable.
S106 requests are a valid part of the matrix of solutions that are available to the Government, especially on larger development schemes, however, the payments are hitting small to medium sized developers the hardest, as they find it more difficult to absorb the increased costs, which in turn impacts on the commercial viability of development schemes. This comes on top of higher design expectations, increased costs through building regulation changes e.g. Sprinkler systems in Wales and additional pre-application requirements and associated up-front costs following recent changes to the planning process.
The S106 costs requested by local authorities were originally expected to provide the additional local services that new development would generate, however there are concerns that there is little transparency on where, or how, the money is spent. Local Authority funding is being squeezed and there are concerns that S106 monies are being used to provide services that do not strictly benefit or derive from the implementation of the proposed developments.
In addition to the S106 payments, Affordable Housing requirements of up to 40% for refurbishment and in-fill schemes are also adding further viability strains on the property sector which are raising serious doubts about whether marginal schemes will proceed. At a time when we should be encouraging new development and similarly bringing redundant buildings and derelict sites back into beneficial use for housing and other uses, it appears the question of commercial viability for development is not being raised at an early stage in the planning and development process.
TC Consult have undertaken Viability Appraisals for our developer clients to challenge the S106 and affordable housing requirements imposed by local authorities. The provision of an 'Order of Cost Estimate' for the proposed scheme and incorporating that into a comprehensive and clear Viability Appraisal has provided the appropriate evidence for our clients to negotiate with the local authority considerable reductions in their S106 and affordable housing contributions.
Case Study 1
A local authority originally requested circa £1m for S106 contributions and 20% Affordable Housing on a 240 residential unit mixed-use scheme on a former industrial site with a GDV of £60 million. Following the appointment of TC Consult to provide a Viability Appraisal for the scheme, subsequent negotiations have provided a settlement of half of the original S106 requirement and a 5% Affordable Housing requirement, resulting in an overall saving of £2.1million.
Case Study 2
The refurbishment of a city centre Listed Building to provide 13 residential units with a GDV of £1.7m had an original request of circa £200,000 for S106 contribution. Following the completion of a Viability Appraisal by TC Consult, a zero contribution has been agreed with the District Valuer & Local Authority.
Case Study 3
A saving of circa £100,000 was achieved on the S106 request from the Local Authority for the refurbishment of a former public house to provide 12 residential units with a GDV of circa £1m
The introduction of Community Infrastructure Levy (CIL) by local authorities will hopefully provide clearer guidelines on level of contributions to be expected for development schemes, but these requests will still warrant a challenge on viability grounds, where appropriate. Viability is still a valid argument when considering the level of contribution that is to be considered appropriate and reasonable for any proposed development. The Government's general view on viability is that:
'….sites and scale of development identified in the plan should not be subject to such a scale of obligations and policy burdens that their ability to be developed viably is threatened.' ²
The success of our approach comes from providing clear and reasonable evidence for both costs and anticipated revenues and complying both with the letter and spirit of the relevant Government and RICS Guidelines on the production of viability appraisals for planning purposes. TC Consult offer a unique approach of providing cost information, the ability to access specialist information on potential development abnormals and our development consultancy experience in all sectors. We also bring considerable experience and expertise in reviewing the initial design information of proposed development schemes to identify and highlight areas of concern and quantify potential risks to the project.
Early commercial viability assessment is essential in the consideration of any development scheme but it is becoming more important than ever with the increasing levels of S106 and affordable housing contributions currently being requested by local authorities. It is more than reasonable for such requests to come from local authorities, but if the requests result in viability issues for schemes and ultimately not proceeding, then they are counter-productive to the overall objective of encouraging more residential construction in the UK.
If you have a development site and S106 and affordable housing requests are being made by the local authority, please get in touch on 02920 220300 and we'll see if we can help.
Reference Sources:
¹ 24 Housing 'Developers 'forced' to pay over £2bn to councils last year' http://bit.ly/2vocMfe
² Viability Guidance (Gov.Net) http://bit.ly/2v5v7mc
³ Joseph Rowntree Foundation Response to the Housing White Paper Consultation http://bit.ly/2tH1i9e