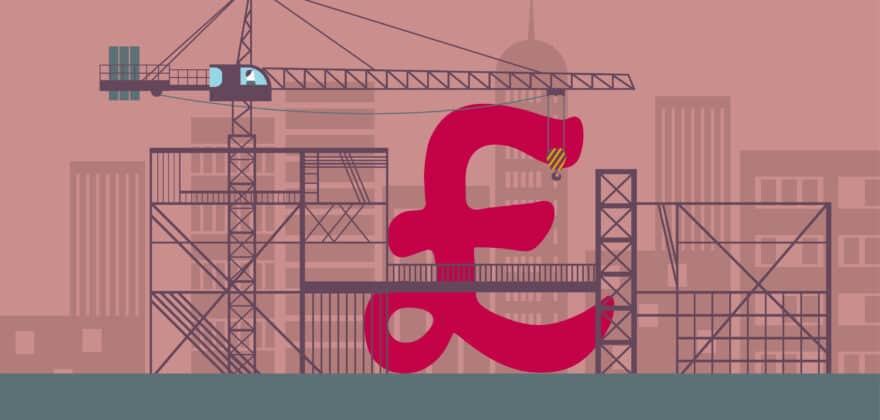 09/03/2023
There's optimism that market volatility is reducing
The latest forecasts for the construction industry indicate a stabilising of both tender prices and building costs this year to 1.1% and 2.5% respectively (BCIS). This is good news for clients looking ahead at their pipeline projects, many of which were shelved during the past few years of huge volatility that created so much risk in the market. On the back of this positive news, it appears that some confidence can return to project estimating.
Tender Prices, Input Costs and New Work Output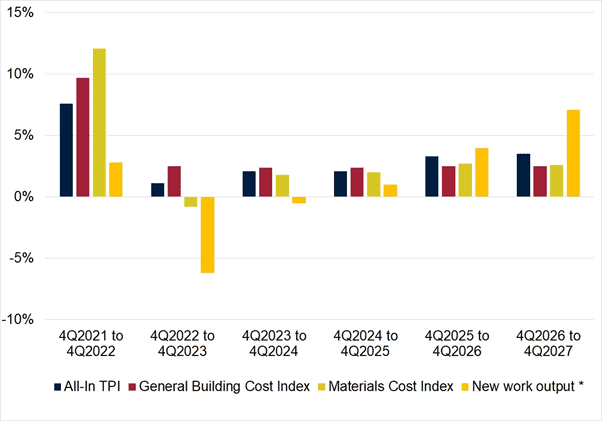 Source: BCIS

Need a cost estimate for your next scheme? This guide is essential reading for every client.
Our new cost guide, including 60 types of building, allows you to quickly create your own early cost indication for your latest scheme.
Read our UK Cross Sector Build Costs Report: compiled from the data supplied up to Q1 2023 by RICS, it gives you dependable rates for new builds, extensions, refurbishment and fitting out projects.
Download it now: https://www.tc-consult.co.uk/construction-cost-report/  
To take the next step, get in touch with us for a 'NRM Order of Cost Estimate', which includes the costs of facilitating work, external works and risks. We can quickly turn around these reports with limited design information, so you can get started on looking into project funding options.
Timely advice from TC
How can you adapt to this changing world, and actually get ahead of the curve?
When you're working with TC Consult you can rely on the expertise of your Chartered Quantity Surveyor, dedicated to helping you and adding value at every stage. Our experts are professionally trained to produce estimates and cost plans, using the latest cost data and forecasts from the BCIS, together with live project data and contractor engagement. We're used to allowing for tender price inflation to the point of tender on your programme, and inflation to the mid-point of construction too (not making the mistake of excluding it). We can also quickly estimate life cycle costs for the scheme, looking at longer term value driven viability for Net Zero Carbon designs.
All this makes for a compelling reason to use TC Consult's Chartered QS team to prepare costs before considering funding options for your next scheme.
Move from estimate to delivery
Project estimating is all well and good, but without a clear plan of action to deliver the project it's an academic exercise. That's why clients need a project manager to draw up the strategy, produce the plan and map it out with a programme. Our plans take into account current market risks such as high levels of contractor & supply chain insolvency, labour shortages and volatility of materials prices.
Procurement is a huge part of the overall project and risk strategy, so the PM and QS need to agree the procurement route with the client early. Good quality contractors are certainly in demand, so your PM and QS should look for early expressions of interest and be clear in communicating the procurement strategy and programme.
Early Contractor Involvement (ECI) during the design stages massively increases the likelihood of delivering New Zero Carbon and use of MMC for early cost and programme benefits; however, care should be taken to allow a quality design process.
Our expert PM and QS teams are on hand to offer clear advice on project strategy and provide procurement recommendations, after carefully considering the client brief and assessing current market conditions. As with all our services and the advice and guidance we offer, we're focused on equipping you with clear, reliable information that helps you make decisions – so you can move forward in an ever-changing industry.