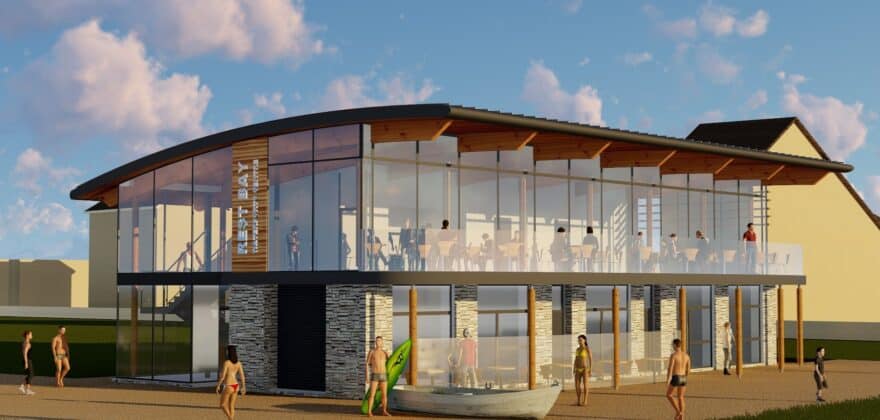 17/11/2019
TC Consult acted as the Quantity Surveyor on this stunning £1.5m glass-fronted Watersport Centre.
The centre has now officially opened in Rest Bay, Porthcawl as part of the Welsh Government's plan to entice more visitors to the seaside town and was made possible with EU funding.
Designed to bring together surfers, kayakers, paddleboarders, walkers, bikers and tourists, the two-storey centre is a much-needed facility to further cement Porthcawl as one of the UK's fastest growing surfing destinations.
The centre features a viewing area, changing facilities, external showers, public toilets, accessible beach wheelchairs and a cafe on the first floor.
Making the vision a reality
TC Consult acted as the Quantity Surveyor on the project, taking care of procurement, contractual arrangements and financial control.
During the initial stage of the build, a large amount of rock was found when the ground was being dug for the foundations. To keep the project on track and to budget, TC Consult went through an extensive value engineering exercise to see if a more cost-effective solution could be found. This exercise resulted in saving £35,000, which was enough of a contingency to cover the preparation of the ground.
Owner of TC Consult, Paul Tambini MRICS, said: "It's been a pleasure to work on this project and we've been inspired as we've helped bring this vision into reality."
Discover one of the best outdoor destinations
Award-winning Porthcawl Surf School will occupy the ground floor of the centre where they offer year-round surf lessons and equipment hire.
Surf school owner Hugh Murray said: "We believe that Porthcawl is among the best outdoor adventure destinations in the UK and our new centre will help people discover this, while also helping educate visitors on the importance of coastal conservation."
Council Leader Huw David said: "Rest Bay has long held a reputation as a superb destination for tourists and water sport enthusiasts, and the new centre is going to provide a richer, better visitor experience".