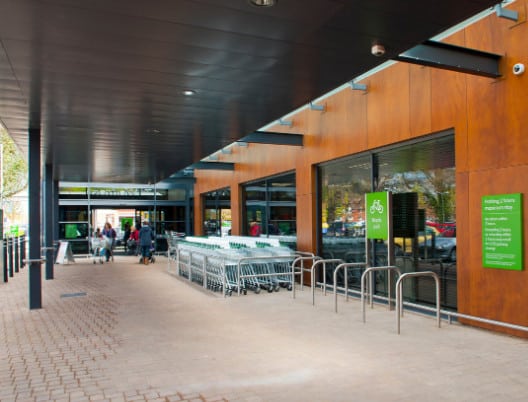 Project: Waitrose, Warminster
Location: Fairfield Road, Warminster
Client: Henry Boot Developments Ltd
Value: £2.8m
Project Details:
Dents Gloves had been in the same location in the centre of Warminster since 1920 but were starting to need more space to grow. Fortunately, their factory was the ideal spot for Waitrose who had long held plans for a Warminster site.
TC were appointed Project Manager, Employer's Agent and Quantity Surveyor by Henry Boot Developments Ltd. (HBD), on this multi-faceted but exciting design and construct scheme.
Double the challenge
Before demolishing the old glove factory, TC needed to build a bespoke new factory that met 21st century regulations. To make room for Waitrose, they then had to sensitively decant and demolish the old glove factory to construct a new 1,858m² retail store and three adjoining retail units for non-food use totalling 610m².
It was a complex project, right up TC's street, which involved significant Section 278 works to the surrounding roads, stopping up (removal of public right of way) orders and the decontamination and demolition of several buildings and structures. In addition, some live telephone masts needed to be relocated temporarily to enable the development.
With a residential estate and several other local businesses accessible through the site, the construction also needed to adhere to strict noise constraints and health and safety considerations.
Supporting development, maintaining heritage
The development was designed by Boyes Rees Architects, Shear Design and RPS to be modern and sustainable whilst complementing the adjacent conservation area and historic buildings.
TC managed all the planning, negotiations with Dents Gloves and Waitrose, and liaised with neighbours around the site to make sure boundary wall issues didn't affect their trade.
By working alongside the fit-out contractor, we were able to achieve the necessary Breeam and Air Tightness requirements set by Waitrose and create a building that was in keeping with the scenic quality of Warminster.
Speaking in the Wiltshire Times, Waitrose Spokesman James Armstrong said the build would bring substantial long-term benefits to Warminster: "It will not only enhance the quality and choice of shopping facilities available but reduce the need for residents to travel outside the town for their main food shop."
The new store was expected to create around 120 jobs.