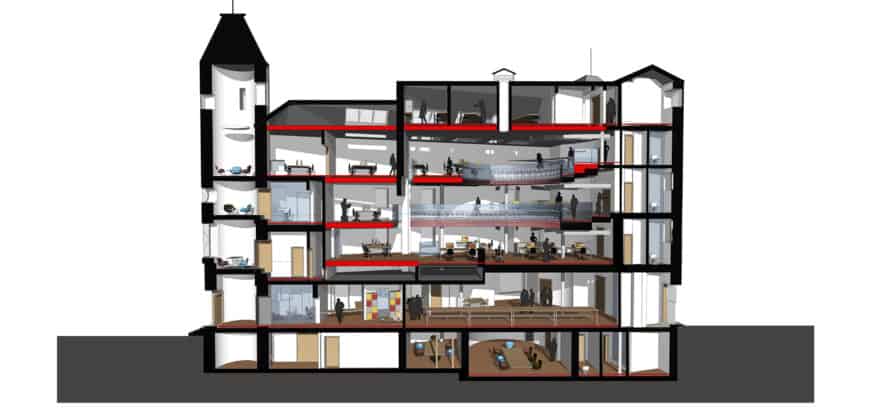 11/03/2021
TC Consult's expertise in overseeing the refurbishment of historic buildings in Wales has been key to our involvement in a significant heritage project in Swansea, the restoration of the Grade II listed Palace Theatre.
TC has been brought in as project manager and cost consultant by conservation specialists GWP Architecture (GWPA) and Swansea Council on the sensitive £5m restoration of the 133-year-old building.
The theatre, where Sir Anthony Hopkins made his professional stage debut in the 1960s, is being transformed into a hub for tech, start-up and creative businesses, while retaining a space for smaller-scale performances.
Hard act to follow
The distinctive triangular Palace is one of only a handful of purpose-built music halls still surviving in Britain, and once drew eager audiences from all over the south of Wales.
Over the years, the building itself has proved to be an accomplished variety act, reinventing itself as a cinema, bingo hall and even a nightclub, until it finally fell into disuse a decade ago.
Now, TC is working with GWPA and their specialist conservation architect, Ashley Davies, on a thoughtful and sympathetic conservation project that will allow the Palace Theatre's rich history to live on again for future generations.
Setting the stage
TC's first priority was to make the Palace a secure structure for specialist surveyors and consultants to work safely.
TC project manager Rob Haywood says years of neglect had left their mark: "The roof was like a sieve, there was wet rot, dry rot, there was wet rot, dry rot and mould."
Next came the task of mapping the original features to be preserved, including a "sunburner" – a gas-lit ventilation device installed to extract cigarette smoke and foul air – and a quirky "fire escape" from a dressing room down a hatch and a ladder.
Special attention has been paid to the huge proscenium arch framing the stage. Rob says: "The plasterwork is in a very poor state so we have taken mouldings."
Throughout the restoration, TC's role will be to keep tight control of costs, ­ensuring the project is as good as it can be within budget. This will involve close collaboration with stakeholders Swansea Council, the Heritage Lottery Fund and the Welsh government's historic environment service Cadw, as well as architects, consultants, specialists, surveyors and contractors – a skill TC takes pride in.
The refurbishment, part of a £1bn regeneration plan for Swansea, is expected to start in July, with completion by the end of 2022.