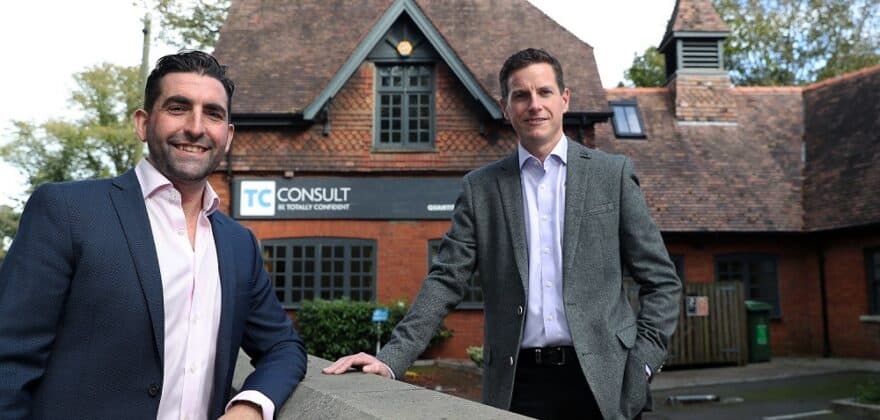 23/10/2019
We are pleased to announce our relocation to new, larger offices at The Old Coach House in Cardiff – an iconic heritage building. Occupying the whole two-storey building, doubling our floor space, our stunning new home offers a great working environment for our growing team. And with a whole floor full of high-spec meeting rooms – we very much look forward to welcoming clients and partners into our new space.
It only seems like yesterday, but it was over 12 years ago when we first set up our office in Newport. Since then, we've moved to Cardiff and grown in both size and experience, acquiring businesses along the way. After our recent rebrand, it seemed like the right time to upgrade our offices to better reflect our business culture and who we are as a company. What remains unchanged is our continued commitment to being a reliable team with professional expertise, getting the job done and working to tick all the boxes.
Paul Tambini, Director at TC Consult said "Moving to our new offices in Sophia Gardens represents an important milestone in the development of TC Consult and reflects the ambition we have for the business and the exciting opportunities we see ahead,"
"We wanted a commercial space that better represented our brand and profile as one of Wales's fastest growing cost consultancy and project management firms and the iconic Old Coach House does just that.  In addition, located as it is so close to the city centre, on the edge of Cardiff's leafy parkland and right by our national sports centre, makes it a coveted place to work, and our talented team are very excited by what the new location has to offer."
The new office, which is run on renewable energy, allows scope for expanding the team, and will soon boast an electric vehicle charging station to accommodate a new company-owned electric team car that our team will use for off-site meetings.
Paul continued "We have a progressive plan for growth but that requires us to invest in the team and get the right people on board, and the new offices are part and parcel of that. Meanwhile, the new electric pool car, our paperless office policy and the fact that we are fuelled by renewable energy are all part of our commitment to becoming more sustainable as a business in light of the environmental challenges we are all facing.
"We are now able to offer staff a fantastic working environment, to go with the commitment we've always had towards investment in technology and developing our people within the business. It is an extremely exciting time for TC Consult and we're looking forward to the next step in our journey."
TC Consult advises  a diverse collection of clients, including Aston Martin Lagonda, 3M plc and Unite the Union and are involved in projects as far afield as Belfast, Glasgow, Leeds, Loughborough and London. Offering traditional quantity surveying services, alongside project management, fund monitoring and development consultancy, we work to develop long-term relationships with clients, building designers and contractors and prides ourselves on our ability to unlock difficult and complex development projects.
We now hope to build on these recent successes and increase our headcount further over the next two years and beyond – as part of our growth strategy to become a £2 million business by 2024. TC Consult have ongoing projects at several sites in the National Museum Wales portfolio, with others in the pipeline for Melin Homes, Mon Motors Group and Snowdonia-based adventure company, ZipWorld.
Cushman & Wakefield represented the
landlord in the deal, while TC Consult was advised by Acuity Legal and Thomas Carroll Group.
We very much look forward to welcoming our clients and partners into our new home over the coming months.