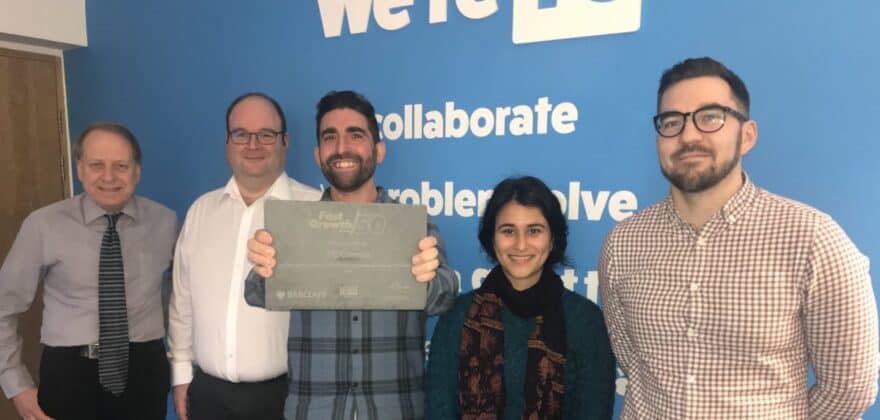 15/11/2019
We are very pleased to have been named one of Wales' 50 fastest growing companies in 2019 at this year's Wales Fast Growth 50 Awards. Having recently announced our relocation to larger Cardiff offices as part of our growth strategy to become a £2 million business by 2024, this achievement has given the team at TC Consult much to celebrate.
The whole TC Consult team raised a glass at the awards night last Friday evening, at the prestigious Mercure Holland House.
Now in it's 21st year, the Wales Fast Growth 50 Awards celebrates those businesses that are contributing to the Welsh economy, making a significant difference to their sectors and communities, and demonstrating that Welsh business is thriving.
Launched back in 1999 by its founder Prof Dylan Jones-Evans, the determining factor for inclusion is revenue growth from 2016-18, with firms requiring sales of at least £250,000.
TC Consult achieved revenue growth from 2016-18 of 116.9%, placing the business at position 41 on the list of Wales' 50 fastest growing firms. Also shortlisted for two categories – Cardiff's  Fastest Growing Firm and Fastest Growing Firm in Construction, the team enjoyed celebrating their success while also congratulating the many businesses announced as winners on the evening.
David Champs, Director and Co-Owner of TC Consult said "The Wales Fast Growth 50 Awards is a celebration of the best Wales has to offer and we are very proud to be featured alongside such ambitious and thriving fellow Welsh businesses.  Our recent growth can be attributed to the combined efforts of the whole team at TC Consult, whose mission is to make the property development and construction process simpler for our clients."
"We now hope to build on these recent successes and increase our headcount further over the next two years and beyond – as part of our growth strategy to become a £2 million business by 2024."
TC Consult have ongoing projects at several sites in the National Museum Wales portfolio, with others in the pipeline for Melin Homes, Mon Motors Group and Snowdonia-based adventure company, ZipWorld.
TC Consult advises  a diverse collection of clients, including Aston Martin Lagonda, 3M plc and Unite the Union and are involved in projects as far afield as Belfast, Glasgow, Leeds, Loughborough and London. Offering traditional quantity surveying services, alongside project management, fund monitoring and development consultancy, we work to develop long-term relationships with clients, building designers and contractors and prides ourselves on our ability to unlock difficult and complex development projects.
To read the full TC Consult feature coverage along with the rest of the top 50 visit coverage Wales Fast Growth 50 Awards  coverage.